THIS SETUP INSTRUCTION IS FOR
NLA DIALUP INTERNET CUSTOMERS ONLY
NOT DSL

IF YOU ARE A DSL CUSTOMER, YOU CAN IGNORE THIS NOTICE
NetLine America's New Nationwide Dialup Internet.
1. Click setup disk below to download and run the NLA Dialup Internet Setup file called " isetup.exe ".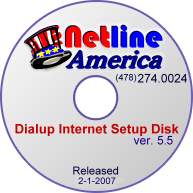 2. When Prompted, for Dialup number, choose appropriate number for your area.
3. When Prompted, enter your Full Name, Username and Password. Please note that your username should include "@nlamerica.com".

Example: username@nlamerica.com
That's It. Enjoy!

NOTE:
After you have successfully completed the upgrade, and successfully connected using this new dialup connection, go to the NetLine America home page.

At the top of the page you will see a lightning coin referring to our New Dialup Accelerator. If you are interested, click the coin to go to the Dialup Accelerator page to learn more about speeding up your dialup connection experience. And the first month is on us! That's right. FREE!
---

SUPPORT
If you need help you can click here to launch our Support Contact Form. You may also stop by or call us at 478-274-0024. We will always be happy to help you!

As always we appreciate your business and patience, and are very proud you are NLAmericans.

The Gang,
Tony, Connie, Danielle, David, Jason, Jay, Joel, Tom, Jeff, Kathy and Dustin!